Top 10 Bulk SMS Service Providers in Kenya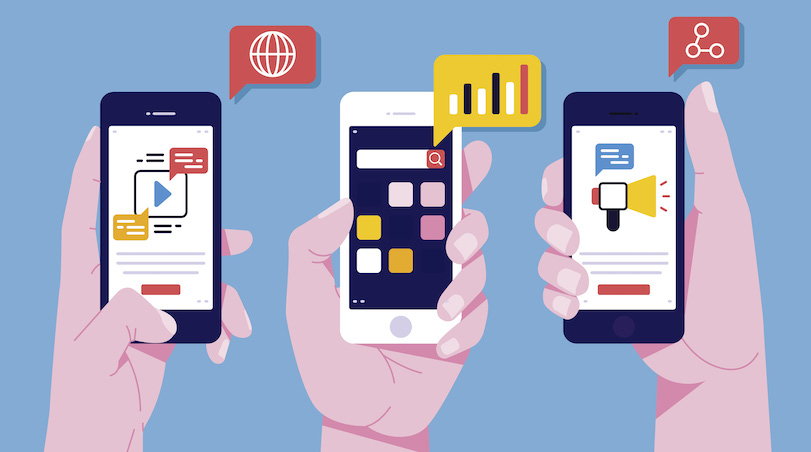 Over the past few decades, text messaging has lingered as the primary source of communication between businesses and customers. So, when it comes to settling for the right bulk SMS provider, no stones should remain unturned.
As a business, one of the best ways of giving value to the customer, winning others, and retaining existing ones is through better relationships. Every business needs to engage in frequent business communication with the customers and other leads.
We live in the mobile era, and mobile proliferation is greater than before. In Kenya, for instance, mobile penetration grew 11 percent between January 2020 and January 2021, to 59.24 million mobile connections or a penetration rate of almost 109 percent – many people have more than one SIM card.
The data reveals that communication today has become easier than ever before, particularly in text messaging. Most people prefer SMS or texting over emails as a result of the instant delivery, notification, and convenient SMS services.
Like bulk emailing, it is entirely possible to send bulk SMS to a mass of audiences without a hassle and in a shorter period.
Why Bulk SMS?
Leading bulk SMS providers in Kenya utilize web-based services offering robust SMS features that enable businesses to send mass texts. Through this method, businesses can easily communicate with a large group of targeted audiences in real time – making it highly effective for campaigns and promotions.
Through an SMS gateway, many businesses can promote their products and services to a customer's mobile with an easy-to-use SMS API platform.
Consequently, bulk SMS services are affordable, with comprehensive monthly plans and free incoming text messages – this also enables the recipient to respond to the text.
It is, therefore, true to say that this messaging service is vital in enhancing communication between a business and the customer. They can help you send out cancellations, scheduled appointments, and notifications, and improve emergency response protocols.
There is a wide range of bulk SMS service providers available to businesses in Kenya. These companies will fulfill the needs of a business through web or mobile network SMS software, provided they have a client database. This is an efficient method of communication as it is instantaneous.
The list of bulk SMS providers in Kenya includes:
One of the easiest and most affordable bulk SMS providers in Kenya is Celcom Africa. It offers instant messaging solutions for businesses and it makes it easy for them to communicate with both existing and potential customers without so much of a hassle.
Through Celcom Africa, you can send bulk SMS directly from your smartphone, or desktop, or even integrate your app into a free SMS API.
Best of all, its bulk SMS platform is packed with all the tools you need to make the experience seamless. It is equipped with features such as automated text messaging and payments, excel sheet support, printable and downloadable reports, SMS scheduling, and SMS credits tracking to let you know how much remains in your account.
Having a powerful API and a range of other benefits, Celcom Africa sits atop other bulk SMS service providers. Its plans are comprehensive with amazing customer support, zero downtime, and easy to use. The platform can be integrated into your business to help create meaningful relationships with your customers.
Key Features
Powerful SMS Gateways
SMS branding, scheduling, and personalized texts
Service Integration
User-friendly interface & APIs
Spreadsheet support
100% delivery on active numbers
99.9% Server Uptime
Add-ons shortcodes, USSD
Low bulk SMS sending cost (depends on one's plan)
Instantaneous bulk SMS distribution with 100% reliability/SLA guarantee
Use of tier 1 telecommunication network operators
Users can get fast customer support via phone, email, or live chat.
2. Africa's Talking
Africa's Talking is another bulk SMS provider with convenient and robust APIs for businesses. It provides features such as bulk SMS USSD, SMS, Voice, airtime, and payments.
These features make them ideal for mobile engagements, particularly in the corporate world. Their easy and reliable SMS APIs provide a wide variety of ways for you to add text messaging to your mobile and web applications.
Key Features
Service Integration
Bulk SMS
2-way SMS
Message queuing
Real-time analytics
Has coverage in various countries
API integration
Easy-to-use interface
3. Advanta Africa
Advanta is another bulk SMS provider in Kenya that provides interactive communication across the country and the East African region. With over decades of providing bulk SMS services, Advanta Africa offers customized Bulk SMS, shortcodes, USSD, and reseller services that can meet your business needs and scale up your overall business productivity.
Key Features
High-capacity messaging service
Flexible pricing
Free API integration
Easy to use,
Low-cost, web-based interface
May be used to send invitations, alerts, info messages, etc.
Allows alphanumeric sender ID i.e., send SMS from your brand name
4. Oramobile
This 24-hour bulk SMS provider is a convenient solution for many businesses looking to maintain valuable relationships with customers. It has a highly interactive dashboard and is quite reliable with one of the best customer support systems. They offer bulk SMS, shortcode, USSD, phone number database, and ringback tones.
Key Features
White label panel with API
Multi-level reseller
Sender ID Branding
Multiple routes available
Real-time monitoring
Attractive prices
Free SMS system
A wide range of service reseller options
Great customer service
5. SMS Leopard
SMS Leopard is a bulk SMS platform for sending SMS Payment Reminders, SMS Marketing Campaigns, and Group Messages in Kenya. The platform allows you to send customized messages and scheduled SMS to a wide database of clients. With their automated technology, you can simply create your version end enjoy the services.
Key Features
Group messaging
Personalized SMS marketing
SMS payment reminders
Easy group messaging procedure
Branding, sender ID services
Instant delivery
6. Uwazii Mobile
Uwazii Mobile messaging account comes bundled with innovative messaging solutions. You can send a wide variety of notifications using a custom SMS sender ID, shortcode, and long code.
This service provider provides a gateway that supports both online messaging through a web portal and API messaging.
Key Features
99.99% server uptime
Real-time delivery analytics
10,000 messages per second.
Global reach and local presence
Remarkable customer experience
Offers fast, scalable, fast, and flexible solutions
Provides mail merging and duplicate checker
Pay-as-you-go service
7. AirTouch Connections
AirTouch Connections allows you to reach your target audience in the shortest time possible through mass texting. It offers top-quality services combined with a wide range of features necessary for the smooth running of your bulk SMS campaigns. No software installation is required. The web-based administration tool gives a simple platform from where you can communicate with your target audience.
Key Features
Mobile marketing and advertising
Bulk SMS
Group messaging
SMS reports
Easy-to-use service
No software is needed for mass texting
Also offers shortcode services
8. MoveSMS
MoveSMS lets you send bulk text messages to a range of networks in various countries. You can choose to send bulk SMS directly from your MoveSMS web account, or your phone, or even integrate your systems application to our messaging server using free API. Move SMS has an easy SMS gateway API that makes your work easier saving you money as well.
Key Features
Bulk SMS
WhatsApp messaging
Shortcodes
2-Way SMS
USSD
SMS marketing
Low-cost bulk text messaging
Has a wide range of text messaging solutions
Website/App integration
Easy SMS gateway platform and easy and free bulk SMS API
9. Mobitech Technologies
Mobitech Technologies allows businesses to send bulk SMS with its user-friendly web panel at highly affordable rates. The web platform leverages SMEs and marketers to set up a powerful campaign, without any involvement of a technical person. You can conveniently manage contacts, personalize bulk SMS, send SMS in any local language, or schedule campaigns.
Key Features
Personalized text messages
API integration
Bulk SMS, USSD, Shortcodes
Real-time monitoring
Unicode support
Highly affordable
Easy-to-use web portal with API integration
Regional language support
Simplified API for easy integration
24/7 customer support
10. Text SMS
Text SMS is a bulk SMS service provider offering two-way SMS communication services from your computer. The Text SMS gateway reaches across borders and connects to over 800 mobile network operators worldwide. It also offers shortcode, USSD, and reseller services.
Key Features
Bulk SMS personalization
Long text messages (+160 characters)
Text scheduling messages
Database management
Have inexpensive rates
Support for long messages
Provides a ton of other services including SMS marketing
Easy API integration
Prompt customer support
In conclusion
Today, almost everybody wakes up and checks their phone for new notifications and interacts with their friends as well as businesses. It is, therefore, true to say that the information sent through text messages will reach and get acknowledged by the customer. Hence the need for bulk Messaging services. The best bulk SMS provider can help you to automate all communicational processes, reduce operational costs and understand your audience better.