Complete Guide of Bulk SMS For Business Growth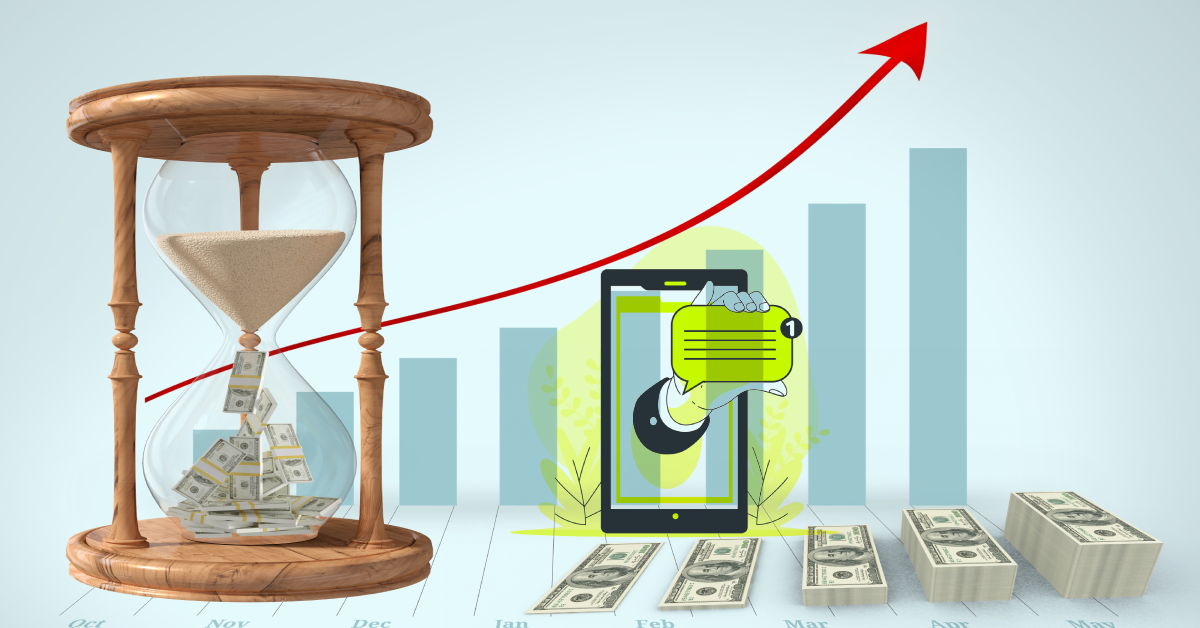 Bulk SMS marketing is an integral part of business operations across the globe today. Bulk SMS for business growth is unavoidable in today's environment where every customer owns a mobile phone. People open and read over 95 percent of the text messages they receive on their phones.
That high rate of engagement is what positions SMS over the many other channels of marketing in terms of return on investment, or ROI.
SMS message personalization, plus can be adapted to prompt two-way communication for instant feedback, enhance targeted communication, and brand building, and improve data accuracy.
In this post, we will look at the various ways in which you can use bulk SMS to further your business's growth. We will discuss why SMS works beautifully if integrated with other strategies.
But first, let's look at the best practices for bulk SMS marketing.
Bulk SMS marketing best practices for business growth
Unlike emails, text messages are more personal, and if you are not careful, you can easily overstep the boundaries.
This fact, however, is what makes SMS quite effective if used correctly. Here are some of the best practices for bulk SMS.
1. Be clear on your goals and objectives
It is important to set goals for what you are looking to achieve with bulk SMS. This involves defining your objectives for messaging, responses, and more. This way, you won't only send relevant and personalized messages to the customer but you will boost the customer relationships and provide a consistent experience.
2. Use the right tools
Choosing the right tools will determine the success of your bulk SMS goals. Finding a reliable bulk SMS provider with the right software will significantly improve your text marketing strategy and performance.
The right Bulk SMS provider will extend you the suitable SMS channels and automation solutions for you to set up an efficient schedule, provide real-time customer support, and most importantly, measure the various key performance indicators (KPI) to determine your growth.
3. Use Bulk SMS for feedback
Having the right bulk SMS channel allows you to collect and gather feedback from customers using other added channels. The integration of these channels enables you to roll out surveys and collect feedback in real time.
Real-time feedback with your customer through a conversation generates valuable insight that helps in overall decision-making. You can use this feedback to optimize other campaigns for better targeting and increase sales while growing a loyal customer base.
4. Integrating bulk SMS with other marketing channels
You can integrate SMS with other channels including social media, email marketing, web blog pieces, and offline ad campaigns.
When merged with these channels to promote a product or for customer support, bulk SMS becomes even more effective.
5. Using Bulk SMS for customer support
Using bulk SMS to support your business is highly accepted. It offers a straightforward troubleshooting solution not to mention that customers can get instant feedback. This is effortless if you open two-way communication.
It is, however, important to keep the same phone number to avoid inconveniences.
6. Keep it clear and concise
Like any other form of marketing, optimizing your text messages and keeping them short, clear, and concise comes highly commendable. Don't forget to use words that grab attention and a call to action.
There are rules and legislation protecting consumers from unsolicited text for commercials. As such, text and email marketing campaigns among others must seek consent from customers but also offer them a way out.
Different counties have different regulations. And before you begin sending texts, you need to understand these marketing laws before proceeding.
How to run creative Bulk SMS marketing campaigns
Every marketing campaign that aims at sparking a feel-good reaction calls for creativity. It works better by encouraging customers to interact with the messaging, hence driving the point home.
Here are ways you can be creative in your bulk SMS campaigns to better convince the customer:
Your text messages should be fun and engaging. This is for existing and new customers alike. Whether it is sales offers, limited-time offers, or coupon codes, your copies must be captivating.
Most importantly, you may want to jazz up your text copy and ensure that anything that works, as long as it is not inappropriate is entertaining but keeps the essential information about your goal or product.
There are plenty of holidays and important days throughout the year. These dates mean a lot to customers. In your campaigns, use holiday-themed messages to give customers offers, one-time deals, and discounts using light-hearted, conversational, and tailored language to win their attention.
Using holiday-themed messages brings some sense of urgency and adding a call to action in every message counts in having the customer react to time-sensitive sales.
Utilize customer-first principle
Capturing new prospects is important, but also keeping your existing customers engaged is of paramount importance. You can keep them engaged through bulk SMS nurture campaigns by personalizing the content they receive.
Make them feel valued and foster their bond with your brand. You can guarantee this by mentioning the customer directly and being casual and conversational with them. Through offers and discounts, you can entice the customers to convert and become more loyal.
The one thing about using emojis in your SMS messaging is that they attract attention while increasing engagement rates. They add a more colorful spirit to your SMS marketing than traditional SMS.
Lots of businesses often feel that they are unnecessary given the maximum number of characters allowed in a text – 160 characters, but emojis help drive the point home.
How to strategize Your Bulk SMS for Business Growth
The success of your bulk SMS campaigns depends on how you strategize. Like any other conversational marketing platform, you can create successful campaigns through texts.
Here are a few principles that guide your messaging:
Know your customer
While aiming to target customers, one size does not fit all. Customer preferences differ, and for this, you must know their personas to convey the right information. This also prevents you from sending out bulk SMS texts that are meaningless and without value.
When this happens, your customers may unsubscribe. Therefore, define your audience first before running your campaign.
Give customers what they want
The fact that customers gave you consent to text them means they want value. It is critically crucial to offer them what they want, that is, something that meets their needs. Don't bombard them with useless messages as this will result in lots of opt-outs. Stay consistent and give them what they are looking for.
Limit the frequency
Every bulk SMS sent out by your brand should mean something. No customer wants to get tons of pointless, overly-promotional texts. Remember not to contact your customers now and then but instead, stick to a schedule that exclusively prioritizes the most important content.
Offer customers something that makes their life easier
What all customers are looking for is something that makes their lives easier. Using bulk SMS for commerce, for instance, is all about bringing convenience to the customer.
While planning to collect leads, drive traffic to your website, or increase sales, always do so from the perspective of the customer. This allows you to provide valuable content while enhancing high engagement rates.
How do You streamline you're your SMS schedule?
Whether you need text automation or regularly send text messages to customers, you must streamline your schedule to match consumers' behavior and preferences. These factors can be outlined by analyzing your campaigns.
For instance, if you run a restaurant and you need customer feedback on their experience, then you know that waiting a few hours after they have left would make sense. So, why not text them after an hour or two for their feedback?
It's all about the timing
Don't wake up your customers at 6 in the morning with promotional texts. The general rule of thumb is, don't send them any text before 8 AM, or after 7 PM – unless you work, for instance, in an airline company where you are obliged to send out flight notifications, or in a hospital where you have to remind patients of their early appointments.
Perhaps you should also mix up your SMS scheduling at a particular time, such as 6 PM. You can stand out from the rest by sending during unexpected times such as 11:53 AM or maybe 2:26 PM.
Run AB testing
Bulk SMS tools provide effective channels to run AB tests. All you need to do is set two different texts against each other and analyze how they perform. The results will speak for themselves.
Automate the workflow
Bulk SMS strategies are often practiced by combining text messages with automated workflows. This ensures that one leverages the power of automation to increase their return on investment (ROI). Whether it be an abandoned cart or a new subscription, ensure that you limit your message to a single text per workflow.
If you have any critical information you need to prioritize, you can combine the campaign with your other campaign – email marketing, for instance.
How to create winning Bulk SMS for marketing
Creating a winning SMS campaign doesn't mean sacrificing information for creativity. You must know how to write the right SMS that resonates with the customer. Follow the following tips:
Keep it simple – Bulk SMS mostly has a character limit of 160, so make it count by using words that grab attention and inspire action.
Capitalized words that ATTRACT attention – since you can't color texts or change the font of your text, you can capitalize letters to create emphasis and a call for action.
Personalize your bulk SMS – personalization allows you to become friendly and effective. Refer customers by their names. Remember their birthdays and offer them something that solves their problem. Include a call to action, and be urgent. Instill a sense that they are missing out on something.
Use power words – These words include Now, Discover, Buy, Latest, Off, and Discount, among others. These words are persuasive and are a means to action.
Less is more – Why you are using bulk SMS is because you want to be clear and concise. Use fewer characters with UTM codes or links for the call to action.
Add in contact details and links
What to take away from this post
Bulk SMS has great potential to grow your business significantly. The secret lies in doing it right, and this applies to all industries looking to use this service. Doing it right means combining techniques, creativity, and tools to achieve set goals.
Whether you are new to bulk SMS marketing or are seasoned in the sector, you can use the aforementioned best practices and tips for creating effective messages to develop valuable campaigns that lead to conversion, drive sales, increase traffic, and generally achieve any goal you are set to achieve.
Luckily, Celcom Africa, which powers lots of businesses and has close to a decade of offering bulk SMS services is here to ensure that you take advantage of its bulk SMS API integration, guaranteed uptime, affordability, and lots of other features.
Create your account today and stay ahead of your peers in the marketing and advertising platform through the most competitive bulk SMS services.